Hair Extensions
Our team of skilled and passionate hairstylists is dedicated to enhancing your natural beauty by adding length, volume, and style to your hair through the art of hair extensions. Discover the ultimate salon experience as we take you on a journey to luscious, head-turning locks.  We use top-quality, ethically sourced human hair for natural-looking results. Book your consultation today and experience the confidence-boosting power of beautiful hair.
Extensions  we offer
          Bellami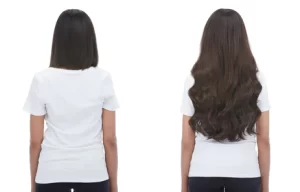 Tapes
Your natural hair is sandwiched in between two hair wefts. The method usually lasts between 5-8 weeks before removal and reapplication. One set of extensions can be used up to 4 times.
Benefit: Easy to apply. Reusable.
Price range: $450-$1200
Beaded Wefts and Strands
Wefts or Strands are attached using a bead to incorporate your natural hair. The bead is then tightened around the hair strand and will remain there until it is removed. Wefts can be re-used 3-5 times. Removal and reapplication every 6-8 weeks.
Benefit: No adhesive. Reusable.
Price Range: $650-$1800
Hairdreams Nano Bonds
The Nano bonds are ultra-thin and extremely flat. They are practically undetectable. They are integrated seamlessly into the hair, making the transition to your hair invisible. They can be worn up to 4-6 months without salon maintenance.
Benefit: Longer wear without maintenance.
Price Range: $700-$2200
Are you afraid of commitment?
Our Halo Couture hair extensions are the answer.
Halo Couture hair extensions are not clip-in extensions, nor are they glued or weaved into place.
The Halo Couture system, as the name implies, uses a mono-filament wire ("halo") that is fully adjustable and is completely invisible when installed. The wefted base of hair is simply put in place, the halo adjusted, and your own hair "scooped" out to cover the wire and halo. Once your hair has been styled the first time, it's a matter of minutes to put your Halo® Extensions in place time after time.
Benefit: Temporary
Price Range: $350-$800