In a world where first impressions matter, your hair speaks volumes about your style and confidence. Imagine stepping out with hair that radiates beauty and elegance, effortlessly turning heads as you pass by. At LAVISH SALON, we're dedicated to helping you achieve that head-turning look with our exceptional blow out services and a curated selection of premium hair products that will enhance and prolong the magic of your blow dry. Let's dive into how we can help you unlock the power of glamour!
The Art of the Blow Out: A blow out is more than just a hairstyling service – it's an art form that can transform your entire appearance. Our expert stylists at LAVISH SALON are skilled in the intricacies of blow drying, using the perfect blend of techniques to add volume, smoothness, and bounce to your hair. Whether you're looking for a sleek and polished finish, voluptuous waves, or a tousled, carefree look, our blow out services are tailored to your preferences, ensuring you walk out with the confidence of a red-carpet celebrity.
Benefits of a Professional Blow Out:
Volume and Movement: Our blow out techniques can add incredible volume and movement to your hair, making it appear healthier and more vibrant.
Longevity: A professionally done blow out can last for days, saving you time in your daily routine and keeping you looking fabulous throughout the week.
Special Occasions: Whether it's a wedding, party, or important business event, a blow out can be the perfect way to elevate your style for that special day.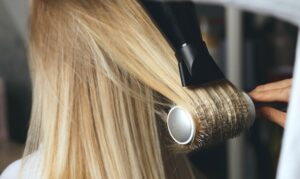 Enhancing Products: To ensure that your blow out not only looks stunning but also lasts, we offer a range of premium hair products designed to enhance the effects of our blow drying services. These products have been carefully selected to nourish your hair, protect it from heat damage, and maintain its shine and texture.
Heat Protectants: Our heat protectant sprays create a barrier between your hair and the heat styling tools, preventing damage while retaining the style and health of your locks.
Texturizing Sprays: For those who love that "lived-in" look, our texturizing sprays add dimension and hold to your blow out, giving you that effortlessly chic appearance.
Shine Serums: Achieve an enviable luster with our shine-enhancing serums that keep your hair looking glossy and luxurious.
Dry Shampoos: Prolong the life of your blow out with our dry shampoos, designed to absorb excess oil and maintain the freshness of your style.
When you step into LAVISH, you're not just getting a blow out – you're entering a realm of luxury and transformation. Our skilled stylists consult with you to understand your preferences and offer recommendations that suit your unique features and lifestyle. From the moment you settle into our salon chair to the final flourish of the blow dryer, every detail is meticulously crafted to provide you with an experience that exceeds your expectations.
 Elevate Your Glamour Quotient Your hair deserves the best, and at LAVISH SALON, we're here to provide you with a blow out experience that not only leaves you looking stunning but also boosts your confidence. Say goodbye to bad hair days and hello to a world of glamour, all within the walls of our salon. Visit us to unlock the power of a flawless blow out and discover the magic of enhancing hair products that will keep you turning heads long after you leave our salon!